E-Safety Information Evening
An E-Safety information evening was organised and presented by staff from O2.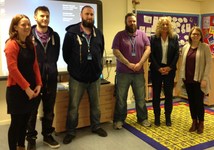 We would like to thank everyone who took the time out to attend our E-Safety information evening.
Thank you to the staff from O2 for presenting the evening which highlighted the work they do alongside the NSPCC in keeping children safe online.
There are booklets and information in school for anyone who could not attend.